moving the superhero fish - part um?
I know many of you are waiting on the edge of your monitors for an update on my moving endeavor, but this isn't the full version. Brace yourself as we travel back in time to last Sunday. This really should be called:
THE MOVING DISTRACTION-FISH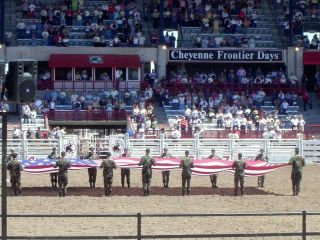 After a gruelling Saturday of realizing that I have too much stuff and not enough time to go through it all before throwing it in boxes and dragging it four blocks, we decided to go to a rodeo. For those of you who do not remember the old west or cowboys or even what a horse looks like here's a picture:
Cheyenne, Wyoming - proud home of the Cheyenne Frontier Days: "
the Daddy of 'em All
" - a rodeo tournament that lasts a week, and has every year since 1897. For those of the rodeo-persuasion, this tourney is the second most prestigious in the country - cause it has the second largest reward pay-out of all the events on the rodeo circuit. It also hosts one of the best
old west museums
.
My favorite was the clown:

(yes, he's waving at me - that made me very happy)
Outside the arena was a gala of leather and lights - a boardwalk without an ocean - I kept expecting when I got to the end of the carnival strip of games and rides, that I would be able to walk onto the pier, take off my shoes and wade into the cool(cold) water of the Atlantic Ocean - but of course, I was in Wyoming. (Just in case you were wondering - Wyoming is a looooong way from the Atlantic, something like 2500 miles away).
I was going to post these pictures on the
tourist
, but the only talent I have with pictures that rivals
jenn see
's ability to take photographs, is my ability to edit them. (This isn't a complaint - sometimes I take gems as well, just not as often.)
before edit
after edit
(yay disappearing people)
Yes, the carnival had a fun house. It's been years since I've even seen an attempt at one of these and though it was kinda lame, it had a small mirror maze (I've been drawn to these strange infinities ever since I saw
Something Wicked This Way Comes
as a child).
All in all, the day was hot and pleasant - I got drunk on cheap beer, was amused at all the cowboy hats, and watched a bunch of macho men try to prove that they really are smarter than your average side-of-beef. I also scared myself silly on this ride: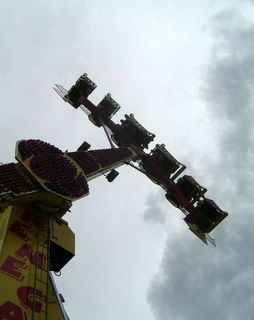 But mostly, I spent the day avoiding any thought of the room I had not yet cleaned, of the boxes sitting stacked in my new living room/dining room/bedroom, of the fact that I can't find anything, despite my four-tier system, and just enjoyed myself immensely.