it's monday, let the fish fly free
It's amazing how one thing leads to another, often totally unrelated thing-- (which is probably how you got to the fish). So now, join me in following the fish, from one thing to another...
Follow the
flying fish
to see some "
picture
pages
" as my esteemed partner refers to them -- beautiful, nay? Pause for a moment and then it's off to
Easter Island
,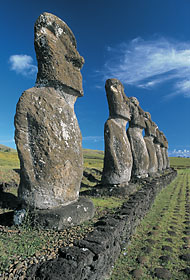 the fish takes us through the
Bermuda Triangle
on the way to
Monday, March 14th.
(Note: just because you have an explanation for something - like static
electricity
- doesn't mean you have a reason for the disappearances - three more last year.)
Today is
Einstein
's Birthday.
This most notable man was born in the year 1879.
Also,
Karl Marx
- the social philosopher, not the part of the
Marx Brothers
comedy team - died today in 1883.
And here the fish will leave you with a closing thought:
"If you cannot convince them, confuse them." -Harry S. Truman