not a fish at all
ok, so i know i've promised much in my life- i know i promised you pictures of mowing the lawn and being the goddess of destruction as i run my lawn-sharpened mower over the weeds of chaos and mother nature in another of man's chaotic attempts to bring order to the yard - but after two days all the dandilions (who were just laying down and biding their time) popped right back up - scaring the cat - and the lawn looks like it needs to be mowed again. So, I'm feeling a bit sheepish and not like a fish at all, much less a goddess...
besides, I still haven't finished the roll of film - or maybe i have - but this camera is new at least to me, and requires decisively non-digital film. It may rewind itself eventually - i hope.
so instead here is a picture of a duck: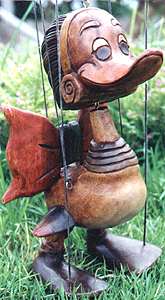 -from
P.I.P. Handicrafts

now quit your quacking...