inspirational fish
my fish may not have mottos exactly, but it sure likes to talk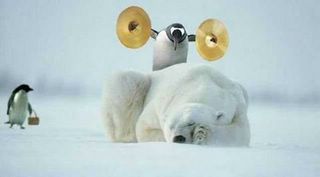 Do one brave thing today... then run like hell!
Do something that scares you everyday.
...the adventure may be mad, but the adventurer must be sane.
-G.K. Chesterton
Rage, rage against the dying of the light.
-Dylan Thomas
May you live all the days of your life.
-Jonathan Swift
Life is pleasant. Death is peaceful. It's the transition that's troublesome.
-Isaac Asimov
Never knock on Death's door: ring the bell and run away! Death really hates that!
-Matt Frewer
Seriousness is the only refuge of the shallow.
-Oscar Wilde
I am not young enough to know everything.
-Oscar Wilde
The most incomprehensible thing about the world is that it is at all comprehensible.
-Albert Einstein
I am here by the will of the people and I'm not leaving until I get my rain coat back!
-Dream Years by Lisa Goldstein
A countryman between two lawyers is like a fish between two cats.
-Benjamin Franklin
Clothes make the man. Naked people have little or no influence on society.
-Mark Twain
Be careful about reading health books. You may die of a misprint.
-Mark Twain
I am very gullible. I believe everything I say, even though I know I'm a liar.
-Lord of Light by Roger Zalazny
Better to write for yourself and have no public, than to write for the public and have no self.
-Cyril Connolly
Say not, 'I have found the truth,' but rather, 'I have found a truth.'
-Kahlil Gibran
How often have I said to you that when you have eliminated the impossible, whatever remains, however improbable, must be the truth?
-Sherlock Holmes (Sir Arthur Conan Doyle)
The difficult I will do now; the impossible might take a while.
We the willing, led by the unknowing, are doing the impossible for the ungrateful. We have done so much, with so little, for so long, we are now qualified to do anything, with nothing.
-The Metro Para pledge
Be as radical as reality.
-Lenin
I learn of other people's thoughts to ultimately understand my own.
Ok, that's probably more than enough for today. If I didn't attribute the quote it's because I didn't know who to give the credit to. I welcome anyone correcting me on my attributions. And perhaps next time, if you are good little fishies, I will add links...