may the fish be with you
so what if i missed the
original theatrical release
by just over a year? star wars has lived in my soul for just about as long as i've been alive. i used to make the neighbor-girl be
princess leia
and sit under a table in her cell while i ran around the house shooting
storm troopers
. she was a sport and played along like any five year old with an imagination would. my
x-wing's
s-foils were juryrigged open with twelve-cord (which my father had in abundance and also provided the ziplines for my
gi joes
, the pliable bastards) because i'd put it through the trench run so many times that, nevermind the force, luke just had the
law of averages
against him.
it was a yahoo
article
giving me happy news during these dark times. a 3-d animated expansion on
the clone wars
, which is the best bit of star wars to come out since
empire
in 1980, and a live action tv series which i was a little apprehensive about upon first reading. what made me excited about it was reading that lucas plans to just get the bowl rolling and then step away. it will focus on the events between
revenge
and a new hope. to top it off, there are plans to release all six movies in '07 on imax. that kinda makes me tingle.
revenge of the sith is less than a month away and i'm getting the itch. i haven't had a trilogy day for 5 years. episode's 1 & 2 made me put star wars down for a while. there's a cool kind of anticipation just chillin in side of me cos it knows what i know. that this final movie is really going to kick ass.
when all is said and done, i think that 3-4-5 will be looked at as the core part of it. the rest is just exposition and resolution.
Obi-Wan, my Numbah One
the close second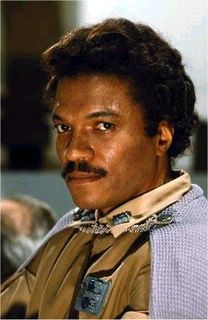 lando calrissian, the baddest mofo in the galaxy.
i could go on, but the only other character i'd like to touch upon is
han solo
, and his unfortunate emasculation. it's bad enough that the badass smuggler we all knew and loved had turned into
leia's bitch
by the time jedi rolled around, but the special edition of a new hope just killed me. han shot first because he got the drop on
greedo
, the rodian bastard. he was a bloody pirate, and that's what pirates do. bad form,
mr. lucas
. the only other gripe i've got with the special editions comes from empire, and that's luke's enhanced scream as he falls through
the bowels of cloud city
. my response to the original - wow, luke would rather risk almost certain death than join vader. response to the special edition - oh look, luke slipped and now he screaming like a pansy. huge difference.
and finally, just cos it's the coolest Corellian freighter in the universe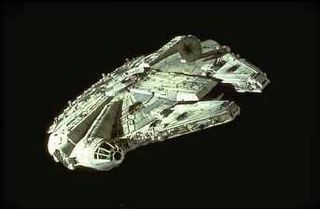 the millenium falcon