my fish is thoroughly amused

Today my fish likes colors and i am happy to say that there are enough reluctant feathers in the universe and we don't need any more unhappy little fish.
That said, I will now share with you the places my fish took me and the wondrously strange things I found hiding there, just around the corner, in a back alley of the Universe: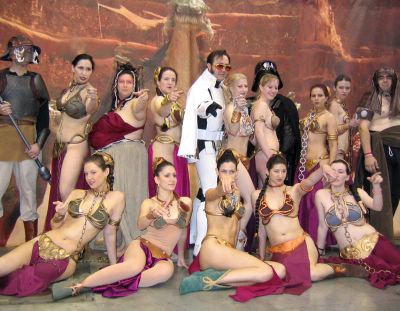 Elvis Trooper Loves the Ladies
For more grand adventures of this mysterious hero, follow your fish to the Home of the Elvis Trooper.


Elvis and Darth - Best Buds Forever
I guess my fish was on a sci-fi kick because next it took me through the worm-hole (like down the rabbit-hole) to explore the wonders of those of us who miss our camaraderie. It's good to see that though the show does not continue, the obsession does:


I think John would look lovely in a little blue dress and pig-tails.

My fish also showed me that wonderful things can happen when different pop-icons are mixed into one. These are some Cool Creations. (You absolutely must follow your fish to these images as there are many, some animated and the site asks me not to disrespect his fish, not in so many words.)
Ok, my little fishies, that's it for now from the mysfit channel of the fish, stay tuned for other fish and remember not to piss off the wild life.